Supply Chain Management
Supplier Sustainability Management Policy
To achieve targets of supply chain sustainable development, the Company seeks to ensure that when suppliers provide products and services, the processes are compliant with social and ethical standards. Furthermore, the Company also ensures that they understand and adhere to regulatory requirements, and are proactive in responding to environmental protection and social related issues, and taking on CSR such that they consistently undertake improvement and enhancement measures. In 2021, to respond to sustainable development requirements
on a timely manner, the Company had incorporated a "Supplier Code of Ethical Conduct" and "Letter of Commitment for Environmental Protection" in the "Nan Pao Supplier Code of Conduct". The list of suppliers required to sign on relevant documents had expanded to suppliers of the entire Nan Pao Group. The Company further set a reply rate of 70% from suppliers as the target this year. The actual reply rate from suppliers of the Group amounted to 74%.
Supplier Sustainability Management Procedure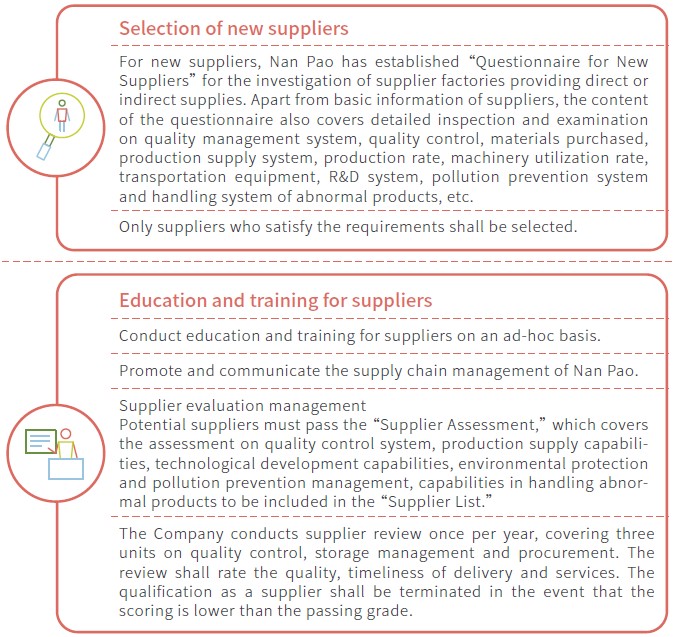 Local Procurement
The raw material cost is the largest production cost for Nan Pao, whilst the raw material quality is one of the ke y factors that influence the product yield. A s such, a stable supply of good quality raw material has become the main criterion of our raw material procurement. Nan Pao consistently supports local suppliers. In 2021, for raw material used in production, local procurement constituted 61%. Excluding intra-group transaction, local procurement constituted 76%, which has continuously exceeded the target of 70%.
Note: The scope of local procurement includes subsidiaries of Nan Pao Resins Group (including a total of 13 subsidiaries in Mainland China, Vietnam, Indonesia, etc.).