Social Participation
Community Safety and Health
As a chemical manufacturing company, to avoid the local communities from getting affected by gas leak or emission from the production process, or toxic substances, Nan Pao proactively undertakes various protective measures within its factories. As the factories contain many types of chemicals, odor is often noted in the vicinity area. To tackle the odor of production EA, the Company has changed from injecting chemical into the aforementioned reactors via holes to via diaphragm pump. This is able to prevent the chemicals from contacting with the air, thus reducing the odor and the concentration of chemical exposure of personnel. Next, the Company has made improvements on components of old equipment within factories (motor with no shaft seal, blind flange and self-inspection, etc.), so that the odor issue is improved. Meanwhile, Nan Pao is devising a plan to recycle all effluents of the factories in the coming years. Such measure can prevent effluents from emitting into the sewage of Liucuo Dapai community, so that going forward, there will be no water pollution caused by the effluents. We also strive to reduce the VOCs content and emission since early phases of product development and production processes so as to prevent VOCs from polluting the air of the community.
Nan Pao has undertaken protective measures for the usual and natural disasters, and chemical leaks properly. Furthermore, each year, the Company conducts various safety exercises on a regular basis. In the event of a disaster, the environmental impact of the local communities can be reduced to the minimum.
The Company also invites the residents of the communities to participate in environmental protection interactive activities. As a member of the community, Nan Pao cherishes good neighbors whom it works together with. The Company shares with community partners the principle of reducing pollutants from the source and the results of past environmental protection effort so that community residents are able to appreciate that a chemical factory can be friendly to the environment and communities.


Child Education
After-school tuition programs, talent classes, and summer and winter camps:
Due to the openness of government policies and change in social formation, the economic disparity of the society is deteriorating fast, further causing problems such as single-parent, skipped generation and foreigner families. Sigang District is a remote area in Tainan City, whereby the income level is much lower than the national average. The children with such family background will live in the community, facing the choice of their fate. Only education can provide them with a ticket to pursue and realize their dreams in the future.
Each child is like a seed. Some are seeds of gentle roses, while others are towering camphor trees. We must provide a diverse range of courses and opportunities for a variety of cultural studies. We must respect the uniqueness of each child, and even go one step further to inspire students in realizing their diverse cultural potential and creativity. As such, Nan Pao Foundation collaborates with Sigang Elementary School, Gangdong Elementary School, Houying Elementary School, Songlin Elementary School and Cheng Kung Elementary School in Sigang District, and Wunnei Elementary School from remote area of Jiali District in organizing after-school tuition programs, societies and summer and winter camps. The courses are designed and tailored to the children's needs by teachers of various elementary schools. Apart from studies, the courses devised also develop and cultivate children's interests in art, sports and other club activities.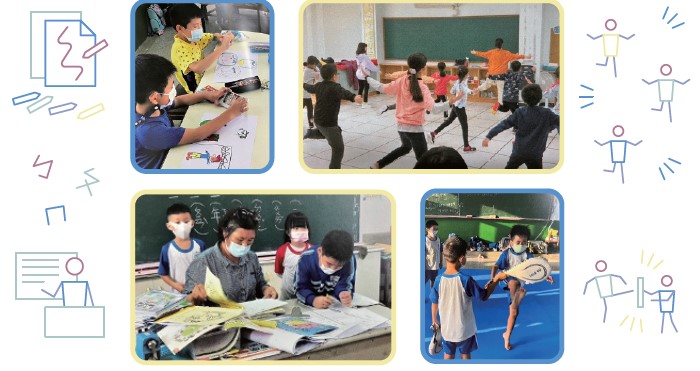 Elderly Care
Huashan Social Welfare Foundation:
As the demographic structure of Taiwan is turning into an aging society, the society at large is very much concerned with elderly issues and needs. More investments are required than before. After coming into contact with Huashan Social Welfaren Foundation, who has been consistently offering care for elderly welfare, Nan Pao Social Welfare Foundation has come to realize that the current care available to the elderly is inadequate. As such, it started collaboration with Sigang Angel Station of Huashan Social Welfare Foundation. Each year, Nan Pao calls on its employees to raise fund for gift boxes for Dragon Boat and Mid-Autumn, and Chinese New Year. The gift boxes are delivered in-person to the elderly by Huashan Foundation for the convenience of mobility-impaired or solitary elderly. To better looking after the daily lives of the elderly, Nan Pao donated home service car specially for Sigang District, as well as the service expenses for solitary elderly care. Professional social workers from Huashan Social Welfare Foundation take charge of the home service in Nan Pao's stead. Each day, social workers visit the elderly for accompanying them receiving medical attention, performing bed bathing, sending nutritional supplement and food, etc. Apart from providing services to cater to physical needs, for mental needs, the social workers also provides company to the elderly, helping them regaining confidence and life goals.
Senior Citizen's Welfare Association and Community Activities:
The percentage of elderly population of Sigang District of Tainan City on household registration record is not particularly high. However, the young population is migrating outward. Not all elderly lack material resources. But living alone is taking a toll on them emotionally. To encourage the elderly in Sigang District to take part in interactive activities and maintain their physical and mental health, each year, during Double Ninth Festival, Nan Pao Foundation collaborates with Sigang Senior Citizen's Welfare Association to organize recreational activities and buffet. During Dragon Boat Festival, Nan Pao Foundation also makes donation to cover expenses for dumpling preparation in Sigang District, Qing'an community, providing scrumptious dumplings to disabled, solitary and underprivileged elderly, and making Sigang District an empathetic place filled with a savory dumpling aroma. Nan Pao Foundation also collaborates with Qigu District Shulin Community Development Association in organizing Shulin Community geriatric day care center, Spoonbill Academy. The measure arranges for solitary elderly in the community to attend courses. They are able to regain confidence by learning new talents and taking part in competitions, thus leading a fulfilling life.

Care for the Underprivileged
In the past ten years, the economic disparity in Taiwan has been deteriorating. Wealth and resources are in the hands of the few. Nan Pao is able to understand the hardship of livelihood of the common folks, especially in remote area. As such, Nan Pao Foundation provides emergency funding for resolving difficulties encountered by underprivileged families. Since its established in 2007, Nan Pao Foundation has provided emergency subsidies for covering medical and funeral expenses, and privation, as well as school fees of students from low income families. Meanwhile, we have also subsidized many foundations in Tainan area with funding issues, so that we can spread our care further, e.g. Genesis Social Welfare Foundation, Tobias Social Welfare Foundation, Chao Hsin Social Welfare Foundation, Love Child Care Foundation, Genesis Social Welfare Foundation and Tainan Welfare Association for the Deaf.