Workplace Safety and Health Management
Cultivating a Culture of Safety and Health and Raising Everyone's Awareness of Workplace Safety
To establish a safe, healthy and comfortable working environment for employees and consistently reduce occupational hazard rate, the Company has established the "Occupational Health and Safety Commitment and Policy" to serve as the highest guiding principle for safety and health management. Safety in operation has been our top priority. With management standards that focus on continuous improvement, the Company proactively enhances the workplace environment, production equipment and operating procedures to protect the safety and health of workers and stakeholders.
Chemical Substance Management
One of the most important tasks to achieve corporate sustainable growth is to strengthen internal chemical substance management and safety management throughout the product lifecycle. Nan Pao has established a list of hazardous substances and their corresponding safety data sheet (SDS). The content of the data sheet is in full compliance with regulations of the Globally Harmonized System of Classification and Labeling of Chemicals (GHS).
Establishing the Safety and Health Committee
To implement occupational safety and health management in a comprehensive manner, in 2001, Nan Pao established "Safety and Health Committee", which serves as the highest level body in review and deliberation for safety and health management. The chairperson position of the committee is rotated between management representatives of different factories. The Safety and Health Committee convenes a meeting once each quarter to take charge of research, coordination and supervision of environmental, safety, hygienic and health matters of various factories. Every two weeks, factory safety meeting is convened to discuss improvement measures for tackling various audit weaknesses and
prevent occupational disasters.
From 2000 onward, Nan Pao embarked on the Occupational Health and Safety Assessment Series 18001 (OHSAS18001). In 2020, the Company passed the revised certification, i.e. ISO45001:2018, ISO standard for management systems of occupational health and safety, to establish procedures for hazard identification, risk assessment and control planning, as well as management, supervision and improvement measures so as to prevent safety and health disasters arising within factories.

Emergence Response Measures
Various factories have established procedures for emergency response operation. Each year, emergency response team conducts on-site exercise to implement environmental or safety and health system, and prevention of accidents and disasters, as well as getting prepared via first-aid and response exercise. This is to ensure that when accident occurs, timely response measures can be initiated to promptly prevent or alleviate the injuries of casualties, property loss and production disruption caused by emergency accidents, and control influence of disaster and reconstruction after disaster.
To undertake correct and effective response strategies and procedures to reduce casualties, property loss and environmental impact to the minimum when emergency incident occurs, Nan Pao has made plans for conducting exercises to train the relevant personnel with hopes of continuously enhance the response mindset of all employees, thus strengthening the disaster relief and response capacity of factories. The content of exercises includes: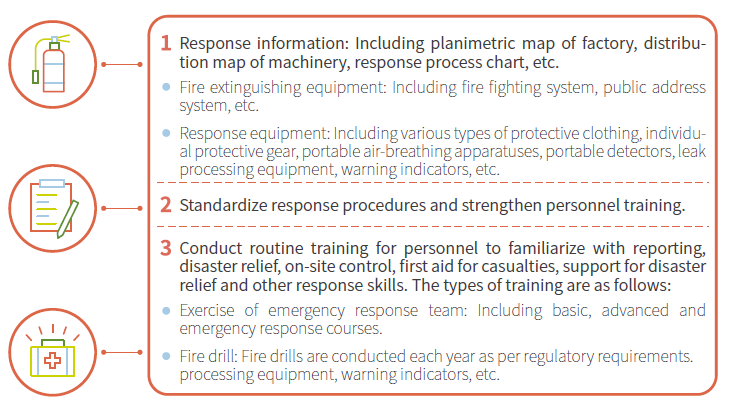 Organization of Emergency Response Team: