Innovative Development
The Innovation and Development Department aims to provide technological solutions for replacing new materials and solving process problems to help our customers achieve their environmental and carbon reduction goals, benefiting the environment and society together.
Low-carbon Chemicals
The company is committed to the trends of circular economy and ESG sustainable development, aiming to achieve sustainable business goals through the use of bio-based materials and recycled materials, contributing to circular economy, environmental protection, energy conservation, and carbon reduction. The bio-based materials we have developed can reduce carbon emissions by 5-80% depending on the bio-based content. Our product range includes bio-based PU foam cushions certified by the US USDA bio-based label, bio-based polyols applicable for PU foam and adhesive synthesis, bio-based shock-absorbing materials for insoles and midsoles, bio-based spray resin and adhesive for footwear, bio-based functional coatings for textiles, bio-based PUR for wood floor adhesion, and bio-based hot melt adhesive for food container labels.
Furthermore, by incorporating recycled materials into our products, we have developed textile coating resins and heat transfer resins containing r-PET, floor coatings containing recycled wafer waste, and textile coating resins containing oyster shell powder, which can reduce carbon emissions by up to 26%. In response to
Acrylic used in textile made with oyster shell powder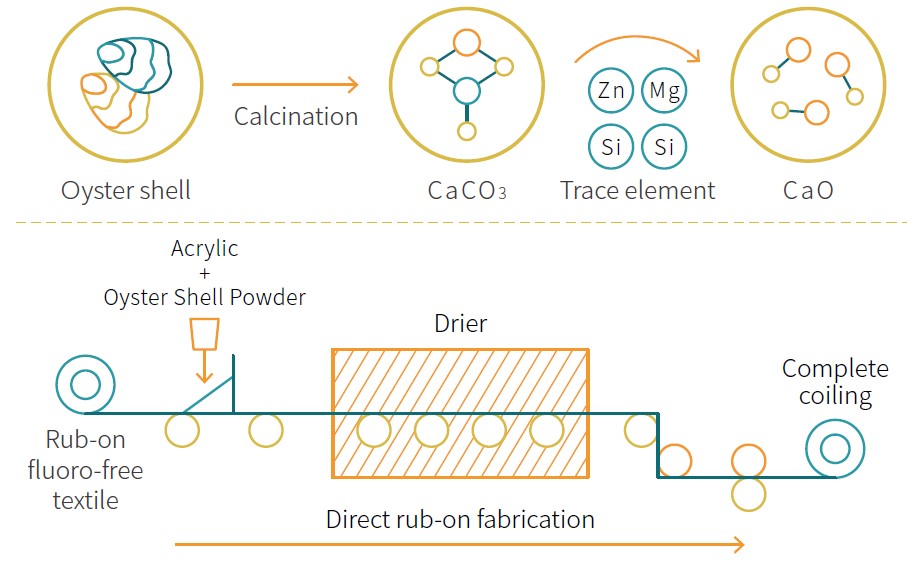 Biomass and eco-friendly adhesive application for vehicles Low VOCs double-sided tape and pressure sensitive adhesive (PSA) for vehicle use